After working in the Highland town of Dingwall for over 30 years, Margaret Eilertsen has made the move down the road to Inverness to open up a brand new, state-of-the-art dental practice.
Margaret qualified from Dundee in 1974 and along with her husband Eilert, a fellow Dundee graduate himself, set up practice in Dingwall in 1978 after a few years working in Inverness. The practice went fully private in 1990 and they have been offering the full range of general dentistry along with high standard cosmetic procedures such as implants for many years.
However, for several reasons, including their business partner falling ill, Margaret decided that it was time to move on and set about looking for new premises in Inverness. She felt that with the increased level of house building in the area there was a great opportunity to relocate and set up a new high-quality dental practice. Margaret eventually found the premises and work began.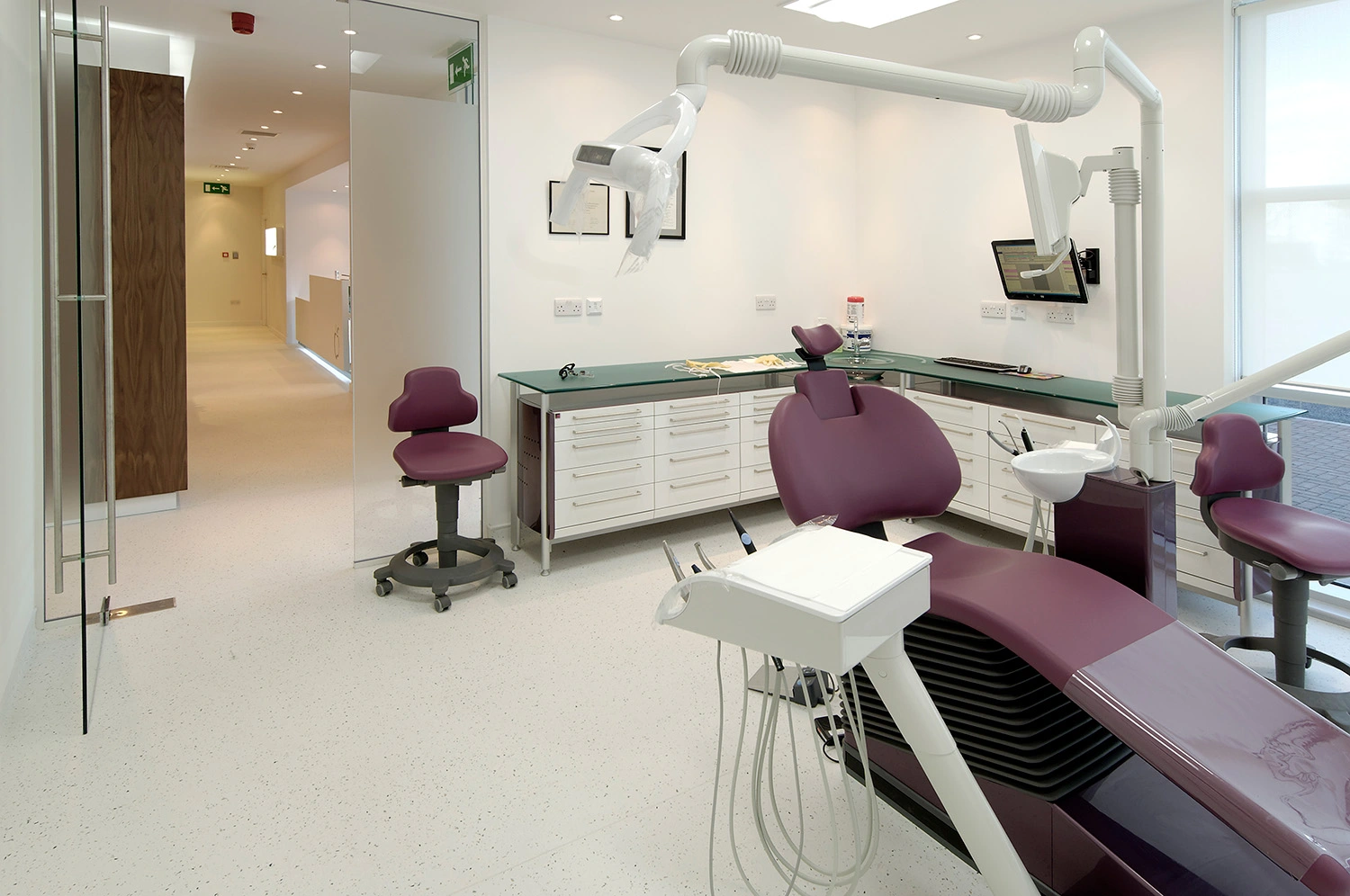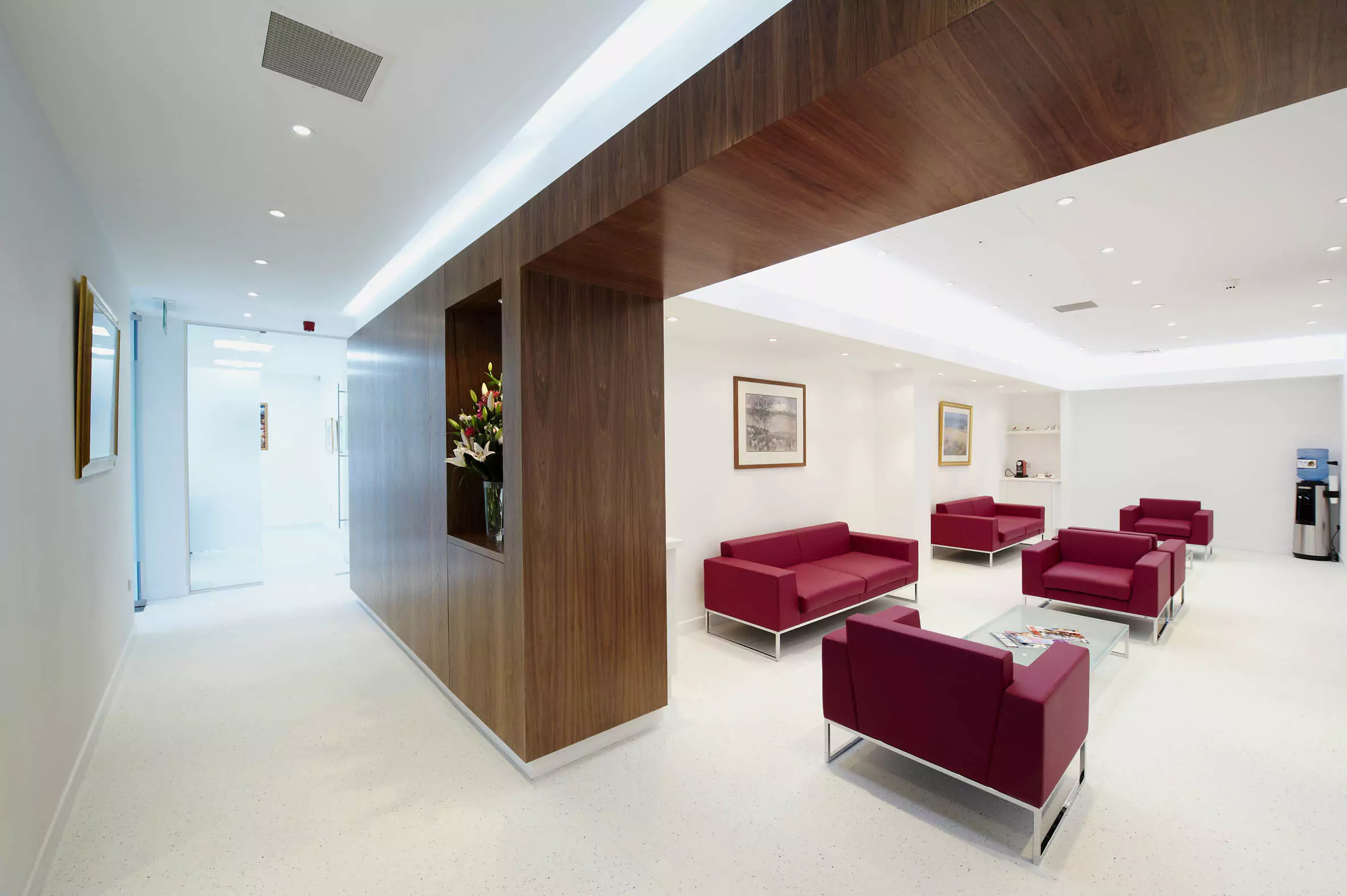 She explains: "It was just a glass square of an office block that we bought and we have completely gutted the inside with the help of Farahbod from NVDC who's made an excellent job."
After reading about a previous NVDC-designed practice (Glasgow Southside Orthodontics) in Scottish Dental and being impressed with the quality of NVDC Architects' work, she took us on board to design and oversee the entire building and fit-out works. As is the case with all the dental practices we have worked on, we offered a completely bespoke service with the design tailored to the individual client. We were working very closely with Margaret to understand her ideas fully. We took inspiration from the context of the building as it backs onto a lovely tree-populated outdoor area and translated this into the walnut cladding which we utilised to define and enhance the circulation routes within the practice. The walnut cladding also works as a reference point to guide patients to the reception area and from there to the surgeries.
We took full advantage of the office building's floor to ceiling glazing and based the design around keeping the light filtering through the whole building. We then introduced glass partitioning, screening the surgeries from the shared spaces, and allowing light to filter through into the public areas.
Similarly, the reception area was designed as a free-standing space against the glazing to the outside to allow light into the waiting room. Stacked layers of glass in the bespoke designed reception desk create a ripple effect on the floors when light passes through them, reminiscent of reflections of water in a clear and direct reference to the client's interest in sailing, while defining a unique statement and brand identity for Eilertsen Dental Care.
"It's been a very truncated process but everyone involved has worked exceedingly hard, all the people that Farahbod has brought in have worked hard and often long hours to get it up and running as quickly as possible."
Margaret further elaborates on her experience when asked whether she was on site regularly checking up on the construction: "Not really, Farahbod has managed it all as I've been working in Dingwall and I only finished work there a week or so before the new practice was finished. But I have been dropping in every now and then to see how things were going and to see what was happening and how the money was being spent!"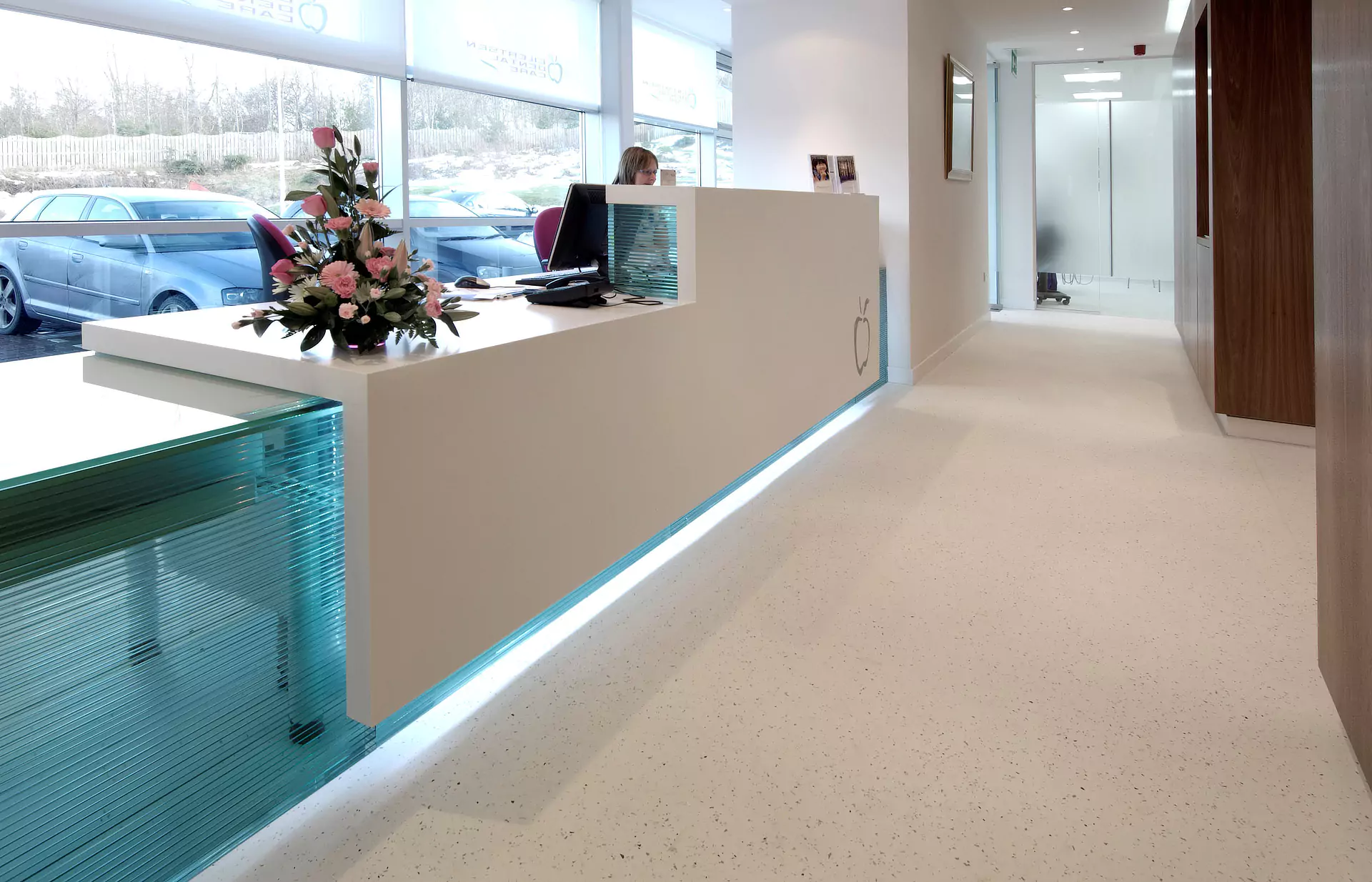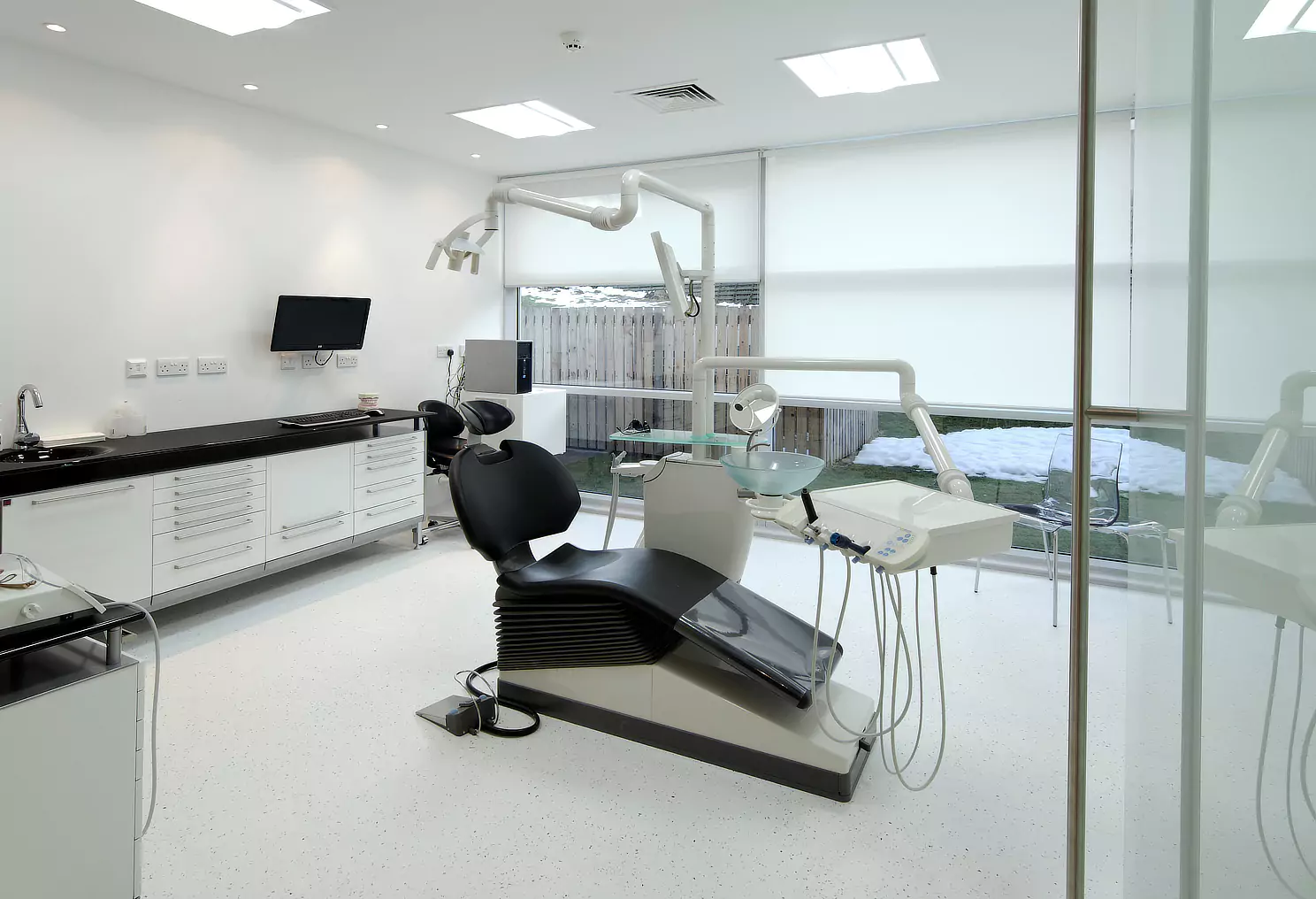 "Farahbod has certainly taken the pressure off doing this sort of thing whilst you are still working as a dentist in another practice. He has taken a load of the difficulties out of it and made it easy for me."
As a studio staple, we enjoy incorporating materials and colours that communicate something about the practice. In the case of the walnut cladding – it became a tool to guide people around the practice as well as a point of visual interest and brought an element of warmth as opposed to standard dentalcare plain white walls which can be quite cold and impersonal. The sense of care and focus on quality even extends to the equipment that Margaret has installed in the new practice such as the latest Siemens Sirona Teneo chair, one of the first in Scotland.
She explains: "The reason we were keen on this model was that it has the facility to do implants using the chair as opposed to having a separate implant motor for it. So the implant part of the proceedings is incorporated in that chair which is one of the reason why we were so keen to have it."
Aligned with the client's ambition for a leading-edge practice, we enlisted Ian Wilson from IW Technology Services to bring the latest IT systems to the practice.
"Everything is digital, the x-rays are digital, we can take intra-oral photographs in each dental chair. And if we need to send patients to specialists locally we can email them the x-rays, so the IT is absolutely state-of-the-art as well. Ian Wilson has been wonderful, I'm not sure he's so pleased with us, we're a bit behind the times but we're working on it!"
The practice has four surgeries including a dedicated hygienist's room and Margaret explained that they are very keen on prevention and family care. They offer the full range of dental services from implant and orthodontics through to tooth whitening and other cosmetic procedures. Margaret currently has two nurses, a receptionist and an office manager in place but she has plans to possibly take on an associate. She describes her staff as one big happy family, having worked with them for a number of years. And, if she has her way it might become an even bigger family affair if she can persuade her recently graduated daughter to come and join her after her VT training.
At NVDC Architects, we're all about delivering exceptional results. We provide optimum solutions for technical issues, expert advice on planning requirements and in-depth industry knowledge across dental sector needs. Our focus is on high quality design that exceeds your aspirations.
If you're currently thinking about expanding, refurbishing, relocation or creating a new practice altogether we would be happy to embark on this journey with you. Contact our team today!